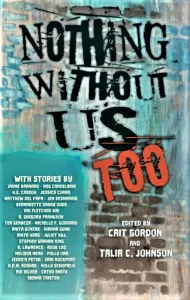 I have a fun story in Nothing Without Us Too, out in September 2022 from Presses Renaissance Press.
The story, "Orange Rope For Sale," is told entirely in Kijiji online sales platform posts and messages.
Dec 2022 update: R. Graeme Cameron reviewed Nothing Without Us Too in Amazing Stories. Graeme has an interesting and thoughtful take on my story as "a fantasy approach to the problem of extreme agoraphobia." Not what I had in mind when I wrote it, but I can see where he's coming from, especially given that I first drafted that story sometime in 2020 or 2021.