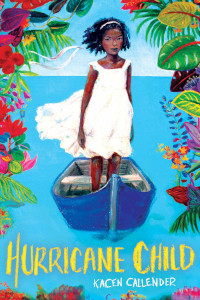 I'm perenially catching up on my reading, and just finished Kacen Callender's 2020 MG debut, Hurricane Child. It was a thoroughly engrossing read. Set in the US Virgin Islands, it delivered a multisensory immersion into the life of a lonely 12-year-old. The main character, Caroline, is friendless and motherless. Her isolation nurtures her unique spirit. Caroline's not quite like anyone else on the inside, and knows it. She sees spirits, and falls in love with an equally unusual girl.
The book's structure feels a little messy, but in a way that works. Middle school is messy. For example, Caroline's questions around her ability to see spirits are left unresolved. But that's OK. No one's finished figuring themselves out at 12.
Hurricane Child was published by Scholastic in 2018, and won both the Stonewall Book Award and the Lambda Literary Award in 2019. Kacen Callender's had an incredibly successful and prolific couple of years since: her debut adult novel Queen of the Conquered won the 2020 World Fantasy Award, her 2020 MG novel King and the Dragonflies was awarded the National Book Award for Young People's Literature, and she also released 2 YA novels, the first of which was nomianted for a 2019 Lambda Literary Award. I'm looking forward to reading more of Kacen's work.