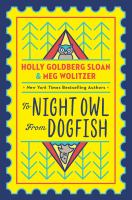 I recently picked up Holly Goldberg Sloan and Meg Wolitzer's 2019 book To Night Owl, From Dogfish. I'm a sucker for alternative formats, and this epistolary novel is told entirely in the form of e-mails between two middle-school girls.
I loved the queer-family representation in this MG book: both girls are in single-parent families headed by a gay father.
That's the family structure in the MG novel I'm working on, so I was excited to see it take centre stage in this novel.
As I read, I couldn't help noticing the parallels between the beats in this MG friendship novel and the beats in a romance novel. At first, the girls agree they can't possibly be friends; they're too different. Then, a common interest brings them together. But the friendship's first blush doesn't last: the differences between them are too great, and they start to drift apart. Finally, there's a blow-out and they break up. But just when we think the friendship is doomed, a crisis brings them back together as fast friends.
The novel felt predictable to me as a result. Of course, I'm not a middle-grade girl, so it doesn't have to feel fresh to me. And I certainly didn't see the twist at the end coming.